2017 Summer Conference
June 21 – June 23
Omni Scottsdale Resort & Spa at Montelucia
Paradise Valley, Arizona
The Educational Audiology Association is your partner in professional development. We are pleased to invite you to join us for the EAA Summer Conference, being held June 21-23, 2017, in Paradise Valley, Arizona. EAA is confident that you will find this unique event full of outstanding presentations, valuable professional information and excellent networking opportunities.
Conference Presenters
Keynote Address ~ Thursday, June 22, 8:00 am – 9:30 am
Justin Osmond
I May Have a Hearing Loss, but that Hearing Loss Does Not Have Me

This year's Keynote Speaker is Justin Osmond. The focus of this session is to share with professionals the perspective of an individual with a hearing loss in order to guide their practice. Through his personal stories and experiences, Mr. Osmond will share with attendees the challenges and strengths that result from a hearing loss and a first-hand perspective of the everyday issues that hearing-impaired individuals face. He will address the social-emotional challenges that often confront those with hearing loss, including how to address feelings of inadequacy and fear of people and consequences. He will provide insight on the attitudes often demonstrated by the general public towards individuals with hearing impairment. Participants will gain an understanding of how the lack of hope and motivation in individuals with a hearing impairment can be more de-habilitating than the loss of hearing itself.
Read More

Justin Osmond has led an extraordinary life and found himself learning vital lessons from his unique circumstances. Growing up with a 90% hearing loss is hard for anyone, but being the son of Merrill Osmond, the lead singer of the world-renowned Osmond Family, made deafness an even bigger challenge for him. Diagnosed at the age of two with a 90% hearing loss, after 12 years of intense speech and listening therapy, he can now speak with passion and through modern-day technology, hear with conviction. Considering the fact that he was a couple years behind his peers, he has shown through intense dedication, mental and physical exertion that nothing can stop him from going after his dreams.

Despite living with a profound hearing loss and even after being told by teachers and professionals that he would never play a musical instrument, he went on to play the violin, viola, piano and drums. He has received numerous awards such as the prestigious sterling scholar award in music, academic scholarships, honorary achievements, and many athletic titles in soccer, football, basketball and track. He has his Master's in Business Administration and is proud to represent the Boy Scouts of America as an Eagle Scout.

Overcoming many communication challenges makes Justin extraordinary. To help raise awareness he launched the Olive Osmond Hearing Fund in honor of his late grandmother, Olive and recently published the book, Hearing with my Heart, where he shares his story with the world. He lives every day by his personal motto: "I may have a hearing loss, but that hearing loss does not have me." Nothing gets him down and he loves inspiring others to go after what they want in life – NOTHING is impossible.
Exhibitor Workshops
9:00 am – 12:00 pm (.3 CEUs)
E1 – Phonak Exhibitor Workshop: Road Map to Success with Sky V and Roger
Presented by Dawn Ruley, AuD, Phonak; Lisa Dyre, AuD, Phonak; Angela Lawfield, AuD, Phonak
Session Information

This session is designed to prepare the professional on how to best use the Roger Touchscreen and understand what microphone modes are available for use. The presenters will provide examples of the benefits of automatic switching with Roger Ready and CROS II and explain the benefits of the Roger Pass around Mic and MultiMedia Hub. During the hands on portion of this session participants will be given the opportunity to examine and compare the models.

Learner Outcomes: Participant will be able to describe Roger Touchscreen and microphone modes available for use, describe the benefits of automatic switching with Roger Ready and CROS II and list three benefits of the Roger Pass around Mic and MultiMedia Hub.
2:00 pm – 3:30 pm (.15 CEUs)
E2 – Oticon Opn™: Improving Communication and Connectivity for Teens
Presented by Mandy Weydeck, AuD, Oticon Inc.; Megan Everson, AuD, Oticon, Inc.
Session Information

Technological limitations of today's hearing instruments make it difficult for individuals with hearing loss to perform well in complex listening environments. This session will address the communication needs specifically of teens with hearing loss and introduce Oticon Opn™, the latest paradigm shift in hearing care, as a solution. Concepts related to this new, unprecedented approach will be presented with emphasis on opportunities to stay connected.

Learner Outcomes: Participants will be able to describe the impact hearing loss has on teens, identify the two main technologies that contribute to the new open sound experience and list how the technology in the latest hearing instrument relates to potential real-world benefit for teens and list how the technology in the latest hearing instrument relates to potential real-world benefit for teens.
Conference Registration
Online Registration 
Online Registration has closed. Please visit the On-Site Registration desk at the EAA Conference.
Early Registration Rate
To receive the special early registration rate, register by May 10, 2017.
Cancellations and Refunds
Full refunds (minus a $25 handling fee) will be made only if written cancellation request is received no later than June 10, 2017.
2017 Hotel
Omni Scottsdale Resort & Spa at Montelucia
Paradise Valley (Scottsdale), Arizona
A special room rate of $129 plus tax will be available until May 29, 2017 or until the room block is sold out, whichever occurs first.  Please book early to ensure a room at the host hotel. Please note the resort fee has been waived for our event and should not be added to your bill.
Use one of the following options to book your sleeping room:
Call: 888-627-3010. To request a room in the Educational Audiology Association Block
When booking online, keep in mind:
Event pre/postdates may not be available through the link.  Call 888-627-3010 if showing no availability
If one or more dates requested are not available, the web will show no availability for the entire stay, call 888-627-3010 to speak with an agent.
Continuing Education
American Speech-Language-Hearing Association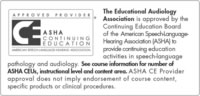 This course offered for up to 1.8 ASHA CEUs (various levels, professional area)
American Academy of Audiology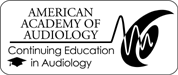 Educational Audiology Association is approved by the American of Audiology to offer Academy CEUs for this activity. This program is worth a maximum of 1.8 CEUs. Academy approval of this continuing education activity is based on course content only and does not imply endorsement of course content, specific products, or clinical procedure, or adherence of the event to the Academy's Code of Ethics. Any views that are presented are those of the pre presenter/CE Provider and not necessarily of the American Academy of Audiology.